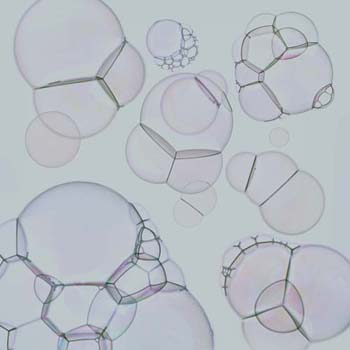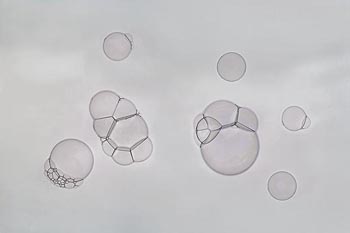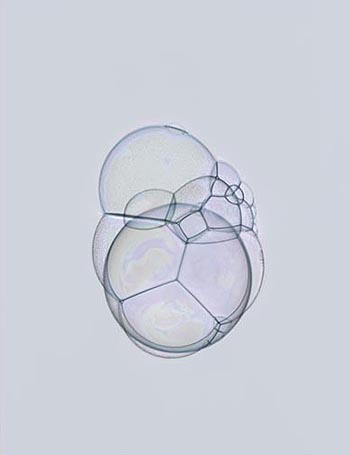 In bed with Lucy and Dolly
Mapping the temporal balance between water and air in the form of unique bubbles - which emerge as a result of dynamic systems that do not follow linear and hierarchal patterns of organizational behavior - Fried charts the fundamental economy of networks in nature. In varying chromatic tones, Fried depicts strictly non-biological membranes that evoke a strong resemblance to primordial living cells or biotech test-tube creations, and remind us of just how strong yet corruptible the architecture of life is.
Fried creates large gaseous vesicles in a totally darkened room using infrared goggles, and at the decisive moment, photograms them onto grainless color sheet-film . Specifically, using the shadows of objects –even transparent things - to make an image on photosensitive material using only light and the light sensitive material. No camera, no Lens. What we see in his enlarged c-prints are the latent shadows and spectral aberrations of these transparent forms.
The title refers to Lucy (the early hominid Mother), to us (the Myth), and to Dolly-the-sheep (the Missing Link) in a dialogue that seeks orientation in a world in which man has moved from controlling the environment to the inescapable urge to invent our predecessors. Fried takes us on a biomorphical journey from the Cambrian sea to the artificial womb.
http://www.galerie-poller.com/artists/Fried/Fried.htm