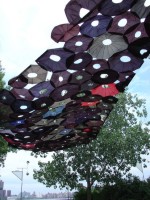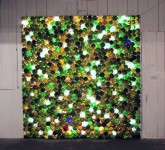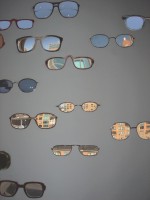 My work speaks of the optimism inherent in giving new form to life's leftovers. I draw inspiration from simple encounters on the street – seeing a broken umbrella abandoned on the sidewalk I am struck with the impulse to rescue this tragic object. Stripped of its consumer value, the object reveals an underlying beauty independent of its former function.
My sculptures and large-scale installations recall the initial history of an object and its relationship to the body, while also suggesting larger connections to our collective desires and struggles. My inventory of discarded or obsolete materials includes broken umbrellas, donated clothing, altered pant cuffs, losing lottery tickets, blank Rolodex cards, and old prescription eyeglasses. By repeating a single object hundreds or even thousands of times, I generate a homogeneous, monumental structure that paradoxically emphasizes the individuality and variation of the material. Through the process of deconstructing these accumulations, the objects reveal new meanings and associations. In my installations, the focus shifts constantly between the individual and the shared experience, the single unit and the larger whole, the intimate and the monumental. These dualities are mirrored in my working process where products of mass production are transformed through handmade labor.
Frequently, my work is sited outdoors and in the public realm. By placing these reconstructions back into the community, I invite interactions with a public that brings their own histories to the work. In this way the installation begins to create its own imagined community of shared experiences. Like coming across a broken umbrella in the street, my installations of vulnerable castoffs provide for a chance encounter that celebrates interconnectedness.