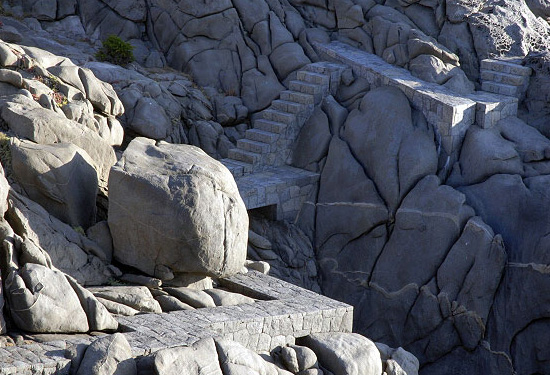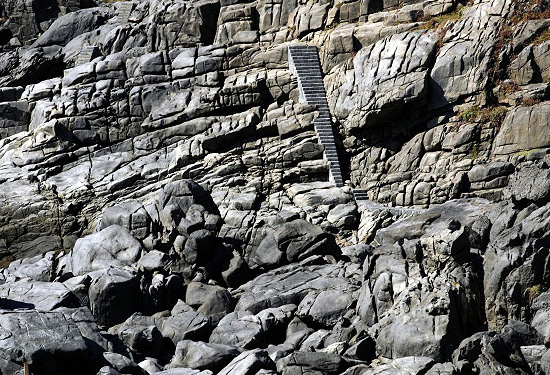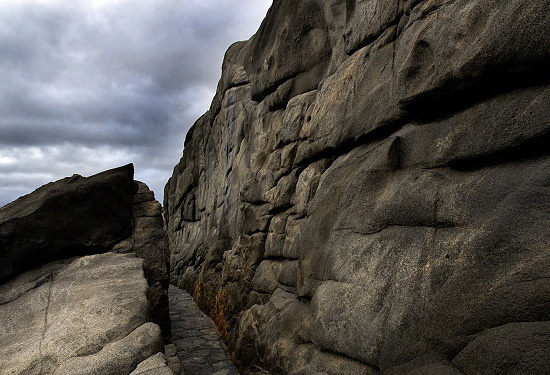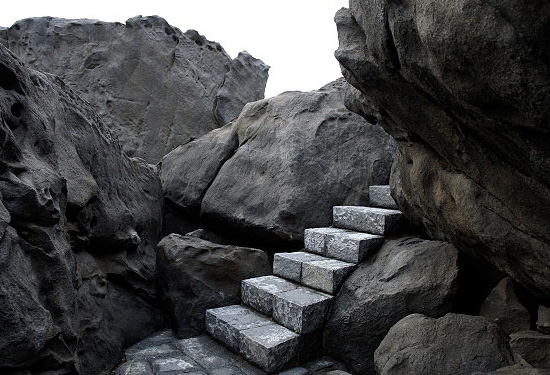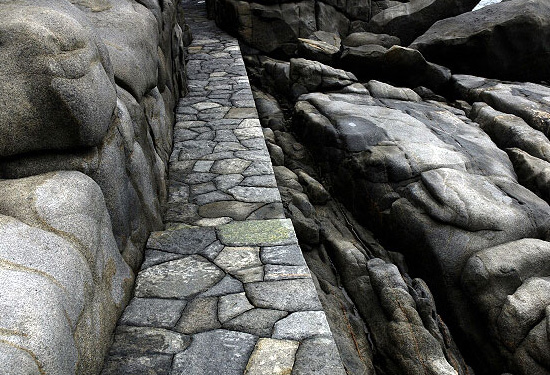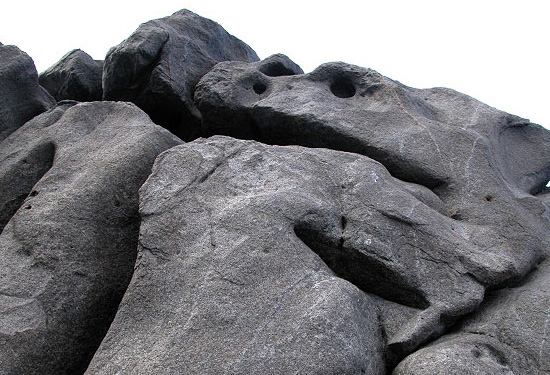 Improbable stairs lead down to the surf on the Chilean coast.
Punta Pite is a 27-acre piece of land that follows the contours of a bay between Zapallar and Papudo, two sea towns located 93 miles north of Santiago, Chile. A residential development planned and built here between 2004 and 2006 takes its name from this place and is laid out in a way that surrenders to the power and beauty of the ocean. It was developed as a series of parts connected by a walking path, one part of which seems to be sculpted out of the existing cliffs, while the other part passes through a restored creek that crosses the site from east to west. The parts were meant to create one single spatial experience of the site.
The Punta Pite project began in 2003 when Consorcio Nacional de Seguro, a Chilean insurance company that invests in real estate, bought the land for development. They hired Santiago-based architecture firm José Peñafel Architects for the general planning of the site, including the layout of roads and lots, and landscape architect Teresa Moller, whose office is also based in Santiago, for the site's environmental studies and overall landscape design.
Moller began her career as a protégé of the well-known Chilean landscape architect Juan Grimm, through whom she learned about the extensive native flora of Chile and its particular geography. After studying garden design at the New York Botanical Gardens she returned to Chile and set up her own office, which is now one of the most prominent in Santiago. In 2005, British landscape magazine Garden Illustrator chose her, along with nine other landscape architects from different parts of the world, as one of the most interesting current designers.
When explaining what guided the design for Punta Pite, she refers to the words of a famous Chilean poet who describes Chile as "pure geography" and the consequent responsibility she thinks this places on local designers. Then she talks about how she spent her childhood in Zapallar and experienced the cliffs, the creeks, and the beach as parts of a whole, underlined by the strong presence of the sea.
"I wanted Punta Pite," she says, "to have the same possibility of exploring and discovering nature that Zapallar had when I was a little girl."
http://www.asla.org/lamag/lam07/august/interdesign.html