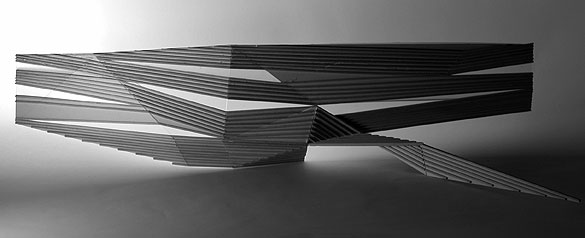 The name Cristall together with abstract local material and landscape references was deployed as leitmotif for marketing and architectural form-finding- avoiding the common clichee-based use of typology.
Looking at crystals as highly complex material organisations we developed the hotel as a series of stratas - an inherent tectonic that is highly elastic and transformable without losing its inherent logic. Hence the resulting form produced the maximisation of usable space in regard to the multiple planning laws and programmatic demands.
This process produced a complex artificial topography that undulates over an extensive wellness & spa area, producing complex light, view and access relationships between inside and outside, above and below. In this way the building is fused with the landscape, coming out of it like a rock.
Bands of timber strips wrap around the volume and form its balconies and façade, then twist, turn and wrap through the interior rendering the lobby into a funnel-shaped 'canyon' framing the mountain-view, where inside and outside are collapsed.