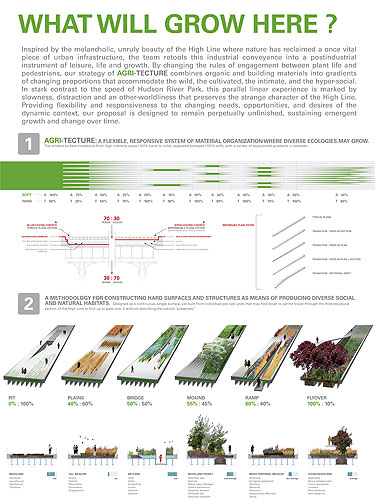 What will grow here?
The Field Operations-led team comprises a design collaborative with Diller, Scofidio and Renfro, Olafur Eliasson, Piet Oudolf and Buro Happold. This team is supported by L'Observatoire, Robert Sillman Associates, ETM Associates, Philip Habib Associates, Williams Group, GRB, Control Point, Code Consultants, VJ Associates, DVS Associates, Tanya Bonakdar Gallery, Creative Time and Pentagram. As a collective, this team brings together seasoned technical expertise with innovative design thinkers that move fluidly in and out of disciplinary boundaries.
Inspired by the melancholic, unruly beauty of the High Line, where nature has reclaimed a once-vital piece of urban infrastructure, the team retools this industrial conveyance into a post-industrial instrument of leisure, life, and growth. By changing the rules of engagement between plant life and pedestrians, our strategy of agri-tecture combines organic and building materials into a blend of changing proportions that accommodates the wild, the cultivated, the intimate, and the hyper-social. In stark contrast to the speed of Hudson River Park, this parallel linear experience is marked by slowness, distraction and an other-worldliness that preserves the strange character of the High Line. Providing flexibility and responsiveness to the changing needs, opportunities, and desires of the dynamic context, our proposal is designed to remain perpetually unfinished, sustaining emergent growth and change over time.